EUROPA BY STEFAN AND FRANCISZKA THEMERSON: SCREENINGS
The North American premiere of Europa by the Themersons is happening this January at MoMA. For over 80 years, Stefan and Franciszka Themerson's 1931 avant-garde film was thought to have been lost forever due to the the presumed last copy being destroyed in Paris during wartime. However, the film was uncovered at the German Bundesarchiv and will be shown as part of The MoMA International Festival of Film Preservation, running through February 6th.
The experimental anti-fascist film features various innovative techniques such as x-ray, collage, and underwater photography, and can also be seen at the Centre Pompidou in Paris and the British Film Institute. Further information for the MoMa can be found here.
The Barbican also announced a group exhibition featuring works by Franciszka Themerson, which is slated to open on March 2, 2022. Further information about Postwar Modern: New Art in Britain 1945-1965 can be found here.
Stefan Themerson
19 Years After 1910
Study for Europa, 1932
1929–1931
Vintage gelatin silver print mounted on card stock (photomontage)
8 x 5 1/2 inches (20.3 x 14 cm)
(THEM 25)
---
---
NATIONAL MUSEUM IN BELGRADE: TO ZENITISTS WORLDWIDE
A new exhibition has opened at the National Museum in Belgrade and continues until April 10, 2022. To Zenitists Worldwide celebrates the 100th anniversary of the publication Zenit. Founded by artist, critic, and translator Ljubomir Micić, it was the first avant-garde Yugoslav newspaper for art and culture. Further information about the exhibition can be found here.
Ljubomir Micić – Zenit
Zenit. Internacionalna revija za novu umetnost
["International Review for New Art"], No. 7
September 1921
Periodical
12 1/2 x 9 3/8 inches (31.8 x 23.8 cm)
---
---
CLAUDE CAHUN: 127TH BIRTHDAY
Ubu Gallery would like to commemorate the 127th birthday of artist and author Claude Cahun. They are best known for their surrealist photography, especially self-portraits. As a non-binary artist, they used their work to examine and defy the societal norms around sexuality and gender in the 1920's.
The artist is also the subject of today's Google Doodle, which can be seen on Google's homepage or the link here.
Claude Cahun
Untitled (Jawbone on a tray with objects)
ca. 1936
Vintage gelatin silver print
4 5/8 x 4 5/8 inches (11.7 x 11.7 cm) – image
7 x 4 7/8 inches (17.8 x 12.4 cm) – sheet
(CAHU 27)
---
---
FIAC! 2021: LA MONDE ARTICLE
Ubu Gallery is pleased to be presenting at FIAC! 2021 at the Grand Palais Ephémère in Paris, and to be mentioned in a recent article in La Monde.
The article reads:
Lots of ideas to take advantage of the return of FIAC
Today, "La Matinale" is interested in contemporary art and offers you a choice of events around the great Parisian event, which returns after a blank year in 2020.
By Emmanuelle Jardonnet and Emmanuelle Lequeux
The International Contemporary Art Fair (FIAC) is back at the temporary Grand Palais in Paris until October 24, 2021.
The return of the International Contemporary Art Fair in Paris in 2021 is happening with a bang: beyond the FIAC itself, installed in the ephemeral Grand Palais, a multitude of parallel fairs and exhibitions are to be seen this week. -end in Paris or Ile-de-France. We made a selection, to see art in the open air, discover new talent, or attend performances …
Our favorites at FIAC
After the cancellation of 2020, FIAC returns to Paris in a brand new location: the ephemeral Grand Palais, designed by architect Jean-Michel Wilmotte. The place is smaller than the Grand Palais, which is currently under construction, but still offers a view of the stands of 170 French and international galleries, which offer a fine selection of modern and contemporary works. The Berlin gallery owner Esther Schipper came with her shock team: Philippe Parreno plays snowman, Dominique Gonzalez-Foerster thinks he's Callas or Fitzcarraldo, Ann Veronica Janssens puts sparks in the eyes, Daniel Steegmann Mangrané draws in the air… The French Jérôme Poggi has composed a bouquet of artists with heady scents, closer to contemporary concerns: the Franco-Canadian Kapwani Kiwanga, the Ukrainian Nikita Kadan and the Brazilian Sidival Fila. At Plan B, you will find a stand worthy of a museum: a magnificent conversation between the nocturnal drawings of Achraf Touloub and the ceramics of Navid Nuur, which seem to melt into a mini cabinet of curiosity. At the Jousse gallery, the spectral silhouettes of the young painter Simon Martin won all the votes.
The stand at the Jocelyn Wolff gallery brings together, around a bronze skeleton by Francisco Tropa, the ceramic sculptures by Katinka Bock and the concrete and enamel installation by Isa Melsheimer. At Christian Berst Art Brut, the anatomical plates of Czech Lubos Plny reveal astonishing maps of his psyche, which he dissects as one with his schizophrenia. The Ubu Gallery presents, in homage to collector Daniel Cordier, an exceptional collection of drawings by Unica Zürn and rare works by Bellmer. At Main Hall, a solo show dedicated to Lois Weinberger (1947-2020), an Austrian plastic artist, celebrates her work between plants, animals and humans. Finally, at Gb Agency, dialogue a magnificent mirror subjected to a silver enchantment by Dove Allouche and graphic fleeing lines by Mark Geffriaud.
A link to the article on the newspaper's website can be found here.
Hans Bellmer
Nous la suivons à pas lents
["We Follow Her with Slow Steps"] 1937
Vintage gelatin silver print with white gouache and red & black ink.
Mount bearing note in green ink in artist's hand and with printing notations
10 3/4 x 7 5/8 inches (27.3 x 19.4 cm) – image
(BELL 523)
---
---
METROPOLITAN MUSEUM OF ART: SURREALISM BEYOND BORDERS
Ubu Gallery is pleased to take part in a new exhibition at the Metropolitan Museum of Art. Surrealism Beyond Borders spans almost 80 years and 45 countries to trace the route of a revolutionary movement. Surrealism, typically viewed through a Western European lens, has been refocused in this exhibition through a global and international perspective. The show runs through January 30, 2022 at The Met 5th Avenue in Gallery 899. Further information can be found here.
Gerome Kamrowski
Embalmed Universe
ca. 1939
Shadow-box collage assemblage of black board, halftone cut-outs, gouache & ink
14 1/2 x 16 inches (36.8 x 40.6 cm)
Signed in gouache on recto
(KAMR 1)
---
---
ANDRÉ KERTÉSZ: POSTCARDS FROM PARIS
Ubu Gallery is pleased to take part in a new exhibition at the Art Institute of Chicago. André Kertész: Postcards from Paris features the artist's rare and small-format carte postale prints, featuring both objects and figures, and sheds new light on his early experimental career. The exhibition takes place from –.
André Kertész
Untitled (Tristan Tzara)
1926
Vintage gelatin silver print on carte postale
5 1/4 x 3 1/4 inches (13.3 x 8.3 cm)
4.33 x 3.15 inches (11 x 8 cm)- image
Signed in pencil on recto
(KERT 5)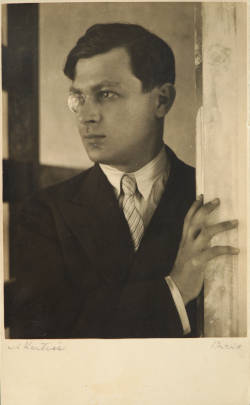 ---
---
FIGURE/S: drawing after Bellmer
Ubu Gallery is pleased to take part in a new exhibition at London's Drawing Room. The show examines the lasting influence of Hans Bellmer and explores the concept of the body as grounds for human experiences such as liberation and oppression. Ubu Gallery has contributed several works by both Hans Bellmer and Unica Zürn, which can be viewed from September 10 – October 31, 2021. For more information, please visit the exhibition page here.
Hans Bellmer
Untitled
["Reversible Drawing"] 1953
Pencil & gouache on card
5 1/4 x 4 inches (13.3 x 10.2 cm)
Signed & dated on recto
(BELL 445)
Installation view, FIGURE/S: drawing after Bellmer, Drawing Room, London, 2021
Photo: Eva Herzog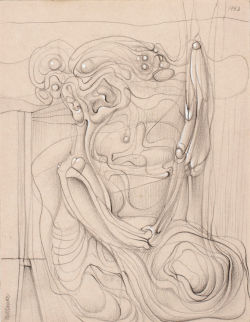 ---
Selected Images From The Exhibition
---
ONLINE LECTURE: TOYEN AND CZECH SURREALISM
An upcoming lecture will be held on Thurday, August 5, about the artist Toyen. An important figure in the art world of early Czechoslovakia as well as one of the Paris Surrealists, Toyen's influence can be seen and felt even now. The lecture will be held via Zoom by Karla Huebner, an art historian from Wright State University, and will discuss the ongoing exhibition Toyen: A Dreaming Rebel at the National Gallery Prague. More information about the event can be found here.
---
---
GALERIE GAILLARD: DANS L'OEIL DE DANIEL POMMEREULLE
Ubu Gallery is pleased to take part in a new exhibition at Galerie Christophe Gaillard.
DANS L'OEIL DE DANIEL POMMEREULLE is a group exhibition featuring artists such as Max Ernst, Man Ray, and Henri Michaux. A work by Unica Zürn, on loan from Ubu Gallery, can be seen at the exhibition, which continues until June 26, 2021. Further information about the show can be found here.
Unica Zürn
Untitled
1967
Ink on paper
8 1/4 x 10 5/8 inches (21 x 27 cm)
Drawing on verso
(ZURN 129)
---
---
HAPPY BIRTHDAY, HANS BELLMER!
Today marks the birthday of one of the gallery's favorite artists, Hans Bellmer (13 March 1902 – 24 February 1975). He was a German Surrealist, widely known for his series of photographs of two adolescent female dolls, which he constructed himself, as well as his partnership with fellow artist Unica Zürn.
Hans Bellmer
La Poupée
["The Doll"] 1937
Hand colored vintage gelatin silver print
6 5/8 x 6 3/4 inches (16.8 x 17.1 cm)
(BELL 486)
---
---