HAPPY BIRTHDAY, UNICA ZÜRN!
Born in Berlin on July 6, 1916, Unica Zürn grew up surrounded by exotic, ephemeral objects collected by her father, a cavalry officer stationed in Africa. Inspired perhaps in part by her father's gifts from afar and a longing for greater contact with him, Zürn developed a rich fantasy life and a vivid imagination. This is evidenced in her dense, otherworldly drawings of fantastical creatures meticulously constructed out of finely rendered, obsessively repetitive shapes and lines.
Already an accomplished author, Zürn produced most of her oeuvre during the 1950s and 60s while involved with the German Surrealist, Hans Bellmer. With Bellmer's encouragement, Zürn began to experiment with "automatic" drawings and anagrams, natural extensions of her established interest in hidden meanings and coincidences. Most of the works in the exhibition were made during the 1960s—an intensely productive period for Zürn—though one marked by her deteriorating mental health and the unraveling of her relationship with Bellmer. On October 19, 1970, Zürn leapt to her death from the balcony of the Paris apartment she had shared with Bellmer. Upon his death in 1975, Bellmer was buried, at his request, next to Zürn in Paris's Père-Lachaise Cemetery. Their grave is marked with the words Bellmer wrote for Zürn's funeral wreath nearly five years before: "My love will follow you into Eternity."
Unica Zürn
Untitled [possibly "Bon jour Monsieur M.–M = MON"]
1960
Ink on paper mounted on paperboard
25 1/4 x 18 7/8 inches (63.5 x 48.4 cm)
Signed "Unica Zürn Paris 1960" & dedicated "à Carl Laszlo à coté de L'hotel d'espérance au Henri Michaux comme vous voulez"
(ZURN 156)
---
---
ARTE E EROS: KLOSSOWSKI, MOLINIER, BELLMER, RAMA
Ubu Gallery is pleased to take part in a new exhibition at the Museo di Arte modern e contemporanea di Trento e Rovereto (MART). Arte e Eros: Klossowski, Molinier, Bellmer, Rama opens July 1st and builds on a series of drawings by Pierre Klossowski. The exhibition then aims to create a connecting thread though the works of Pierre Molinier, Hans Bellmer, and Carol Rama through the lens of Klossowski's de Sadean imagery. Further information about the exhibition can be found here.
Pierre Molinier
Oh!…Marie, mère de Dieu!
[Oh!…Mary, Mother of God!"]
1965
Vintage gelatin silver print
6 5/8 x 4 3/4 inches (16.8 x 12.1 cm)
Title stamped on verso
(MOLI 56)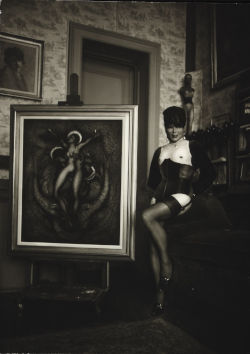 ---
---
THE MACHINE-GUNNERESS IN A STATE OF GRACE: FORELAND ART CENTER
Ubu Gallery is pleased to take part in a new exhibition at Foreland Art Center in Catskill, New York. Works by Hans Bellmer will be part of The Machine-Gunneress in a State of Grace, presented by New Discretions as part of Foreland's slate of July exhibitions. Further information about the Foreland Art Center and all upcoming events can be found here. In addition, an interview with the founder of Foreland, Stef Halmos, has been published in the New York Times and can be read here.
Hans Bellmer
La Mitrailleuse en état de grâce
["The Machine Gunneress in a State of Grace"]
1937
Vintage gelatin silver print
2 3/8 x 2 3/8 inches (6 x 6 cm)
(BELL 254)
---
---
JUDIT REIGL: WORKS ON PAPER 1954-2019
A new exhibition has opened at Longtermhandstand Gallery in Budapest, Hungary. In collaboration with Janos Gat Gallery in New York, it focuses on the works of Judit Reigl, specially those on paper. The exhibition opens April 11 and continues until May 4, 2022. Further information can be found on the gallery's website here.
Judit Reigl
Untitled
from Ècriture d'après musiqué ["Writing after Music"], 1966
Ink on paper
10 5/8 x 8 1/4 inches (27 x 21 cm)
Signed & dated on verso
(REIG 4)
---
---
TOYEN: L'ÉCART ABSOLU
Ubu Gallery is pleased to be taking part in a new exhibition. Toyen: l'écart absolu opens at the Musée d'Art Moderne de Paris on March 25, and is a retrospective of the artist's complex and varied exploration of the erotic. Featuring paintings, books, drawings, and collages, it presents the full scope of their originality and individuality. The exhibition continues until July 24, and more information can be found on the museum's website here.
Toyen & Jindřich Heisler
Já jsem tam nikdy nebyl (Z kasemat spánku)
["I've never been there" from "From the Bunker of Sleep"]
1941 (probably printed 1940)
Vintage gelatin silver print
4 x 3 3/8 inches (10.1 x 8.6 cm)
(TOYE 11.8)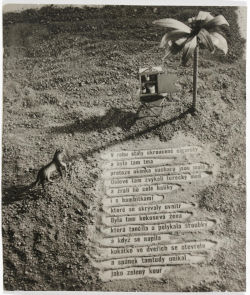 ---
---
JINDŘICH ŠTYRSKÝ: AUGUST 11, 1899 – MARCH 21, 1942
Jindřich Štyrský (August 11, 1899 – March 21, 1942) was a Czech Surrealist artist, and this year marks the 80th anniversary of his death. He was known for being a painter, photographer, editor, and even poet. Along with fellow artist Toyen, Štyrský was a co-founder of The Surrealist Group of Czechoslovakia. His well-known works include the erotic collages Emilie Comes to Me in a Dream and the photographic series On the Needles of the Days, a collaboration for which Jindřich Heisler provided the text. Ubu Gallery's current exhibition, "Artists and Their Books," includes works from both series, showcasing the breadth of Štyrský's artistic talent.
Jindřich Štyrský
Untitled Maquette for the cover of Surrealismus, March 1935
From the series Stĕhovací kabinet ["Vanity Case"] 1934-1935
Collage of offset cut-outs affixed to original mount
16 3/4 x 13 inches (42.5 x 33 cm)
(STYR 101)
---
---
MUNCH MUSEUM: THE SAVAGE EYE
Ubu Gallery is pleased to take part in a new exhibition at Oslo's Munchmuseet. The Savage Eye features multiple works on loan from Ubu Gallery by artists Hans Bellmer, Georges Hugnet, Jindřich Štyrský, and Unica Zürn. Focusing on the overlapping and intersecting art movements of Symbolism and Surrealism, the exhibition aims to show how the unconscious mind and the realm of dreams were used to explore human desires and impulses. The Savage Eye opens on February 12 and continues until May 8, 2022.
Unica Zürn
Untitled
1956
Ink & gouache on paper (torn drawing reassembled by Hans Bellmer)
9 1/2 x 7 1/4 inches (24.1 x 18.4 cm)
Signed & dated on recto
(ZURN 126)
---
---
59TH VENICE BIENNALE: THE MILK OF DREAMS
Ubu Gallery is pleased to hear that Unica Zürn will be represented at the 59th edition of the Venice Biennale. According to recently announced details about the exhibition, The Milk of Dreams will take place from April 23–November 27, 2022. The show, which aims to uplift female and gender-nonconforming artists, features a group of 213 representatives from 58 countries, and will focus on the interplay and relationships between technology, humans, and other forms of life. More information about Biennale Arte 2022 can be found here and The New York Times article can be read in full here.
Unica Zürn
Untitled
1966
Ink on paper
11 x 7 5/8 inches (28 x 19.5 cm)
Signed & dated on recto
(ZURN 12)
---
---
SURREALISM BEYOND BORDERS AT THE MET: CLOSING JANUARY 30
The Metropolitan Museum of Art's Surrealism Beyond Borders will be closing January 30 before the exhbition moves to London. The exhibition, which includes three works from Ubu Gallery, focuses on the international movement of Surrealism over more than fifty years and is set to open at Tate Modern on February 24.
Toyen & Jindřich Heisler
Z kasemat spánku
["From the Bunker of Sleep"], Prague: Edice Surrealismu
1940
Hardbound book containing eight (8) original photographs (one missing)
6 3/8 x 5 1/2 inches (16.2 x 14 cm)
Numbered "16" in red pencil on the colophon (17 total examples)
(TOYE 10)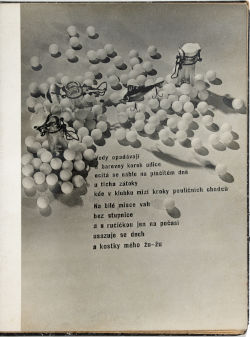 ---
Selected Images From The Exhibition
---
GASTON PARIS: CENTRE POMPIDOU AND GALERIE ROGER VIOLLET EXHIBITIONS
A talented photographer and a diligent and frequently published reporter, particularly in VU magazine, Gaston Paris (1905-1964) remains largely unheard of. A virtuoso technician and brilliant observer, he worked, alongside much more recognized practitioners, to satisfy the visual appetite of the 1930s. Two exhibitions, which recently opened in Paris at the Centre Pompidou and Galerie Roger Viollet give us a chance to rediscover the importance of this photographer, undeniably influenced by Surrealism. In fact, he was one of only a handful of photographers who documented the mannequins of the legendary Exposition Internationale du Surréalisme, held at Galerie Beaux-Arts in Paris in 1938. Although perhaps the least known, his photographs of the mannequins arguably reflect the most talented and sophisticated eye and most interesting and unusual point of view among a standout group of peers, including Man Ray. Ubu Gallery is pleased to have highlighted this underrated luminary in our 1995 exhibition, Exposition Internationale du Surréalisme, Galerie Beaux-Arts, Paris 1938: An Homage, more than 25 years ago.
Gaston Paris
Untitled (mannequin by Maurice Henry for the Exposition Internationale du Surréalisme)
1938 (printed ca. 1960)
Gelatin silver print
8 x 7 7/8 inches (20.3 x 20 cm)
(PARI 4)
---
---